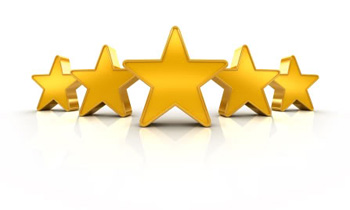 Five-star customer service has always been a top priority for our team of dedicated professionals! Evidence of this has been mounting for some time now, as demonstrated in our many customer testimonials and numerous success stories. Although most appreciative of the accolades, the hard-working members of our team do not have any time to pat themselves on the back. For the past several months, during an unusually hot and humid summer — even by Florida standards — we have been incessantly sweating (and we mean that literally, thanks to a repeatedly malfunctioning air conditioning unit in our office!) and toiling to upgrade our online support portal.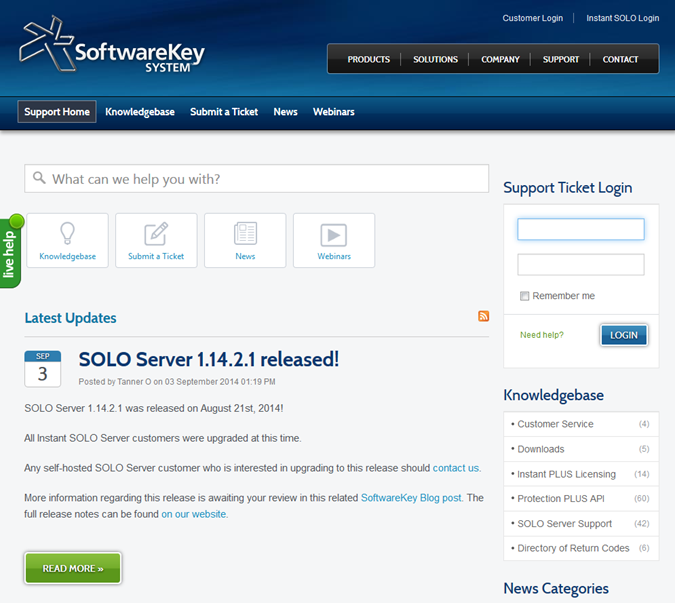 Ticketing System
The support portal includes a powerful, feature-rich ticketing system for managing all of our customer requests. Although you are certainly welcome to continue to interact with our ticketing system through traditional e-mail channels, we are unveiling a new user-friendly interface that will permit customers to not only submit an inquiry, but also allow them to review the progress of their inquiry, make any necessary updates online, and even close a ticket. Because there are often multiple contacts from each company interacting with our support staff, each contact will have his or her own unique support portal login. (NOTE: Your new support portal login will NOT be the same as your Customer Login for downloading software from our site; nor will it be the same as your Instant SOLO Login used for administering your licensing server account. Please refer to the KnowledgeBase article entitled Login help for SoftwareKey.com websites for more information.)
Oh, by the way: If you are a manager at your company who happens to supervise one or more of your firm's employees who regularly correspond with us, we can provide you with the capability to review all tickets submitted by the members of your team. All you need to do is to send us a listing of the e-mail addresses of your team members and we'll link everything to your account. Cool, huh?
Live Chat
For many years, our website has offered a Live Chat icon for sales-related inquiries. With the release of the updated support portal, we are testing out the possibility of also offering technical support by live chat. If you have a simple question that might be answerable through a live chat session, we invite you to give it a try! We will do our best to respond to all requests during our normal business hours of 10:00 AM to 6:00 PM (US Eastern Time Zone), Monday through Friday (excluding US holidays).
"I have used SoftwareKey's products over the span of 10 years, and have always appreciated their quick response to my questions regarding implementation of their algorithms, even though I tend to implement them using unsupported compilers. They have always been quick to respond to my emails, and now I can get even faster answers to my questions through their live chat feature."

Jonathan French, AEROCODERS
News
News has been happening more frequently around our office, so you can expect to see additional dispatches in our online news feed, too. Links for current news articles will automatically be sent in ticket auto responders, allowing you to always stay on top of what is new and exciting with the SoftwareKey System!
KnowledgeBase
We know how important self-service is, especially if we can answer a question before it turns into a support ticket. When you submit a ticket online, the system will automatically suggest potential KnowledgeBase articles which you might find to be helpful. With Protection PLUS Version 5 Native Edition coming out of beta soon, we will be restructuring the Online KnowledgeBase and retiring some of the very old articles that are no longer relevant.
Renaming of the SOLO Server Customer-Facing Portal
When we first launched the then-groundbreaking SOLO Server feature that allows customers to reprint receipts, download software updates, manage licenses and activations, as well as purchase software maintenance renewals and software upgrades, we officially christened it as the Customer Service Portal. To avoid potential confusion with our support portal (which is typically reserved for customer service requests and technical support queries), however, we will be re-branding the Customer Service Portal as the Customer License Portal. Since the Customer License Portal is all about managing software licenses, we think you will agree that the new moniker is quite apropos.
---
Team SoftwareKey is understandably very enthusiastic about the multitude of enhancements to our online support portal, as these changes allow us to once again improve upon the customer service experience for our clients and prospects alike. The new features have been the buzz around the water cooler for the past several months, with anticipation for deployment of the portal reaching its zenith during these concluding dog days of summer!
Speaking of man's best friend, does anybody out there have any suggestions as to how we can train our ever-faithful canine companions — Kiya, Roxie, and Radlee — how to answer support tickets?