Team SoftwareKey has been busy working the past several months on new versions of all of our licensing clients – Instant Protection PLUS 3 (formerly named Instant PLUS), Protection PLUS 5 SDK, and Protection PLUS 4 SDK. All products have been updated and posted to our download servers.
All Protection PLUS licensing clients
Earlier this year, we started introducing the concept of a License Activation Password in SOLO Server. The December releases of all Protection PLUS clients have additional support for License Activation Password, including direct Online Activation and indirect Activation from Another Computer using a thumb drive. Use of the License Activation Password improves security and Instant Protection PLUS 3 continues to have full functionality even if the user changes their customer password in SOLO Server.
Instant Protection PLUS 3.3.1.0 released!
New Version Notification Dialog Improvements
The most exciting feature in this release is a visual refresh and additional functionality in the Instant Protection PLUS runtime new version notification dialog box. Once enabled for your projects, your customers will see the new update notification dialog, with a sample shown below: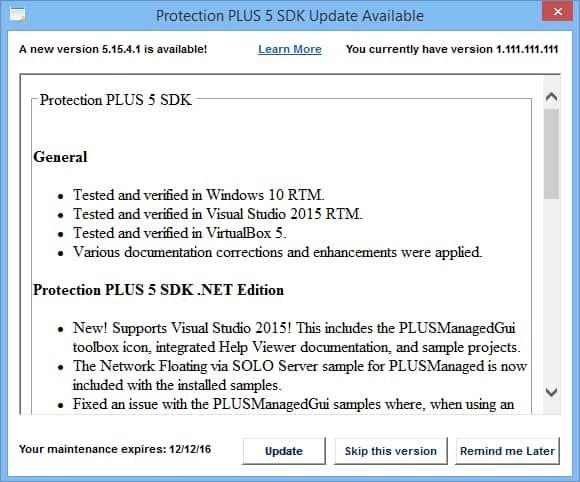 New features on the update notice dialog:
The current version of the software is displayed.
If SOLO Server reports that the customer's software maintenance is expired, an expiration message will be shown to encourage them to renew.
The user can Skip this version and only be notified when the next release is posted.
When the user does not want to update immediately, but does want to apply the update later, they can click the "Remind me later" button.
If SOLO Server has an End User License Agreement (EULA) configured in the Product, the user will be prompted to accept the EULA before downloading, with an example dialog shown below:
The Instant Protection PLUS 3 runtime can now perform automated downloads while verifying software maintenance eligibility without requiring the user to log into the customer license portal through their browser.
New Default Licensing Mode by User
Starting with version 3.3.1.0, new Instant Protection PLUS 3 projects default to activating licensed applications for an individual user account on a computer. This approach significantly simplifies deployment/installation, and helps minimize potential for support issues centered around users' permissions/privileges on a computer. The only drawback is that, if multiple users (each with their own login to the computer) wish to use the application on the same computer, each of those users would need to activate separately. Of course, your new projects can still easily be configured to activate the computer itself (for all user accounts in a single activation), but this approach requires a simple change to the installer by calling the application with the /OPENLF command line switch. These steps are outlined in the wrapper deployment and DLL deployment topics of the manual.
Other Updates and Fixes
The customer registration page now has better email address validation.
The Instant Protection PLUS 3 wizard now has support for larger font sizes for high resolution displays on Windows 8.1 and later.
Minor fixes and enhancements to documentation and the wizard user interface.
Miscellaneous sample improvements, including new Visual Studio 2015 samples & new Delphi samples for RAD Studio XE2 and later.
You can read the full release notes here.
Protection PLUS 5 SDK 5.15.4.0 released!
License Manager now periodically checks SOLO Server for a new version when it is launched. A sample update dialog is shown below: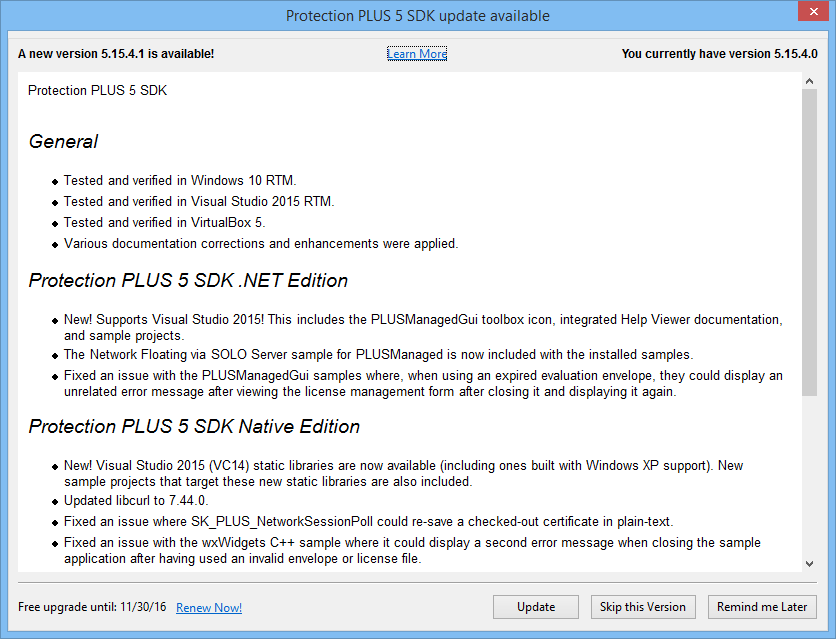 This dialog tells you the currently installed version and your software maintenance expiration date. Because there are many different editions of Protection PLUS 5 SDK, you must log into the customer license portal to download all of your purchased editions.
Network Floating Licensing updates and enhancements
There are many approaches to Controlling Concurrent User Access with Network Floating Licensing, as documented in a recent blog post. We added new sample applications that demonstrate Exclusive File Locking Technique with Local File Server and Cloud-Controlled Network Floating Licensing using SOLO Server. Please contact us for pricing and availability of the Cloud-Controlled service.
When using the Exclusive File Locking Technique with Local File Server technique, we now document how to use the hard drive volume serial identifier algorithm with a remote/mapped network drive.
Other Updates and Fixes
License Manager's support for high-resolution displays has been improved.
Minor fixes and enhancements to documentation.
You can read the full release notes here.
Protection PLUS 4 SDK 4.7.1.0 released!
Protection PLUS 4 is in maintenance mode and has the following updates in this release:
Updated OpenSSL to 1.0.2e
Fixed an issue where Hyper-V virtual machine detection could fail when accessed using RemoteFX.
Other small fixes
You can read the full release notes here.